Le SwimSuit
It all started when I found this unbelievably stunning purple fabric I couldn't get it enough of 
This goodness includes:
A long sleeved body suit, built in bra, flare skirt with hidden pocket and a headcover!
LIMITED EDITION!!
Available in size S, M and L. Optional built in leggings
Women That Lift
Have you known there is a whole community of religious weight lifters?
The other week they were covered by Chanel 12 on TV and we were pleased to see them starring in Chanabana!
It makes us happy to see women fighting for what they believe in and without compromising on their standards. Click on link to see the full video.
The stunning Australian Efrat Lev is starring here in our Purple Splash Leah set
More on the topic coming soon…
In honor of Wimbledon 
After the strawberries and cream it's time to play the game!
Our iconic tennis skirt now available in 5 new colors!
 HAPPY 4th OF JULY!!! 
Wishing all our clients, friends and family a very happy 4th of July!
Today only- FREE SHIPPING on all orders
Enter code: USA2022
From today, we take Credit card!!!
That's right, as of today we accept all cards, Visa/ Debit/ Credit and Amex. The prices are in Shekel ( nis ) but you can also use any international cards. Happy Shopping!
 Inspiration Of The Month 
Tzipi Glick
" For me, moving is happiness "
Tzipi, 68. Happily married 36 years. 5 kids. 9 grandchildren
I just LOVE staying active
It's not just good for your body but for your mental status.
The more you move the more circulation to the brain and the more alive you feel.
For me, moving is happiness.
Favorite sport?
Swimming.
I also play tennis, run, and go to fitness classes
(Pilates, yoga, hiit, strengthening classes)
It's important to strengthen the body for Osteoporosis.
I try to eat healthfully.
I'm just careful what I eat, I'm very aware of what I'm eating.
Most recently I cut out wheat and eat spelt instead.
I also cut out sugar- and use either agave, Silan or honey.
How often do you exercise?
6 days a week.
Some days 3 hours.
Some days 1 hour
(Like today tennis 1 hour, then going swimming soon.)
-wow!
What's your idea of optimal health?
That you feel like you have energy and you can move and it's not hard for you to take a fast paced walk. I'm not asking everyone to be a marathon walker! I took a walk with a friend once and after one block she was panting. HaShem have us bodies and we need to take care of them!
Women need to understand that men like to look at pretty women, not just their wives. So you need to take care of yourself as much as possible to look attractive for your husband.
True!
How do you feel sport impacts your life?
It just gives me so much more energy, it keeps me young and it's also fun! It's like a fun part of my life.
And we see it!
And I wanna say something to women who don't exercise:
The hardest part is starting but you just need to make a small goal; I'm gonna walk today for 20 minutes as fast as I can. Do it for a week, every day, listen to a shiur, go with a friend..
Start with the small things and you'll see you'll feel better.
What motivates you to get up and exercise?
First of all sometimes I don't. Some days I say today I need to let my body rest.
I am an early morning person. I get up in the morning and pop out of bed and I say: Do it! Your body is gonna love you for it!
A tip for an easier life?
Stay positive.
🙂
What would you tell your younger self?
1. Accept other peoples differences more.
2 . Really don't sweat the small stuff.
3 . Appreciate everything you have.
What do you love about 

Chanabana

?
First of all, I feel attractive in it.
I feel it's really cute. Sometimes I can wear other workout clothes, but when I wear Chanabana I really feel attractive in it.
Second of all, it's really comfortable and LIGHT.
(And I sew all my own clothes, so I appreciate it even more.)
And you do sew stunning clothes!!
 Do you know another inspirational figure? 
Apply here for yourself or someone who inspires YOU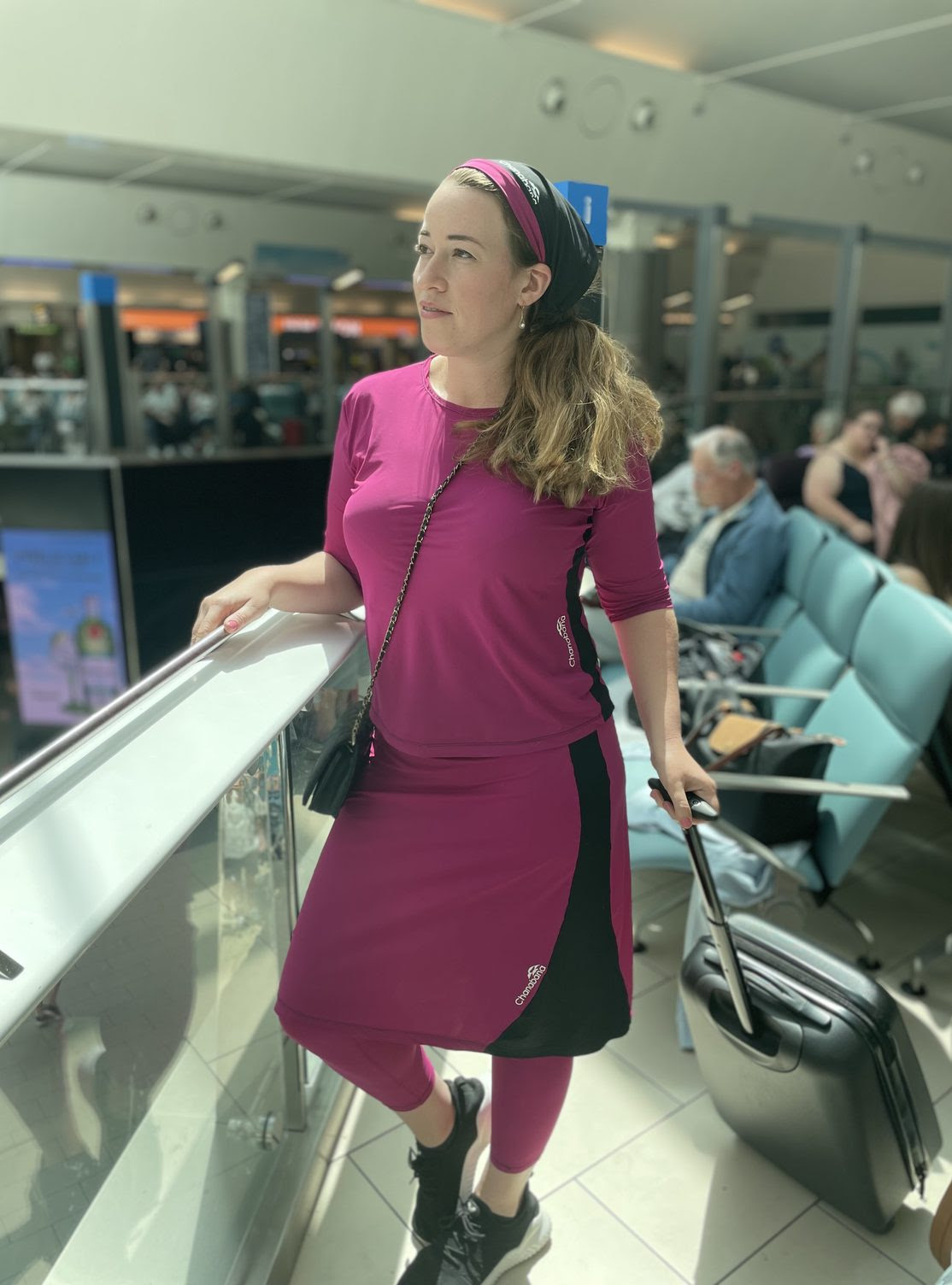 Dairies of a Designer
Visiting another country for just 2 days seems like a wild undertaking!But MAN it's worth it. The airlines are still recovering after covid and not enough manpower so had 5 hours of delay.. I have to say this Purple Splash is a life savior also for flights. So lightweight and I feel I can just hang out in style.
We ship worldwide
NEW! Save yourself the delivery
Self Pick Up available from Efrat and Jerusalem.
For details 054-6393926
Questions? Feel free to reach out by emailing chana@chanabana.com
Chanabana 07/22 Newsletter